Owner Resources
Info You Need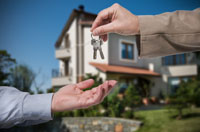 At Home Rentals of Manatee, we treat your home as our own. We offer a wide range of property management services to fit your needs as a landlord and home owner, and tailor our services to insure that you have the highest level of service for your home.
All forms can be opened with the free Adobe Acrobat program. All forms will open in a new window; you can print the form, and close the window when you're done. Thank you.
Resources & Tools
*Sample forms are for informational purposes only. Terms are subject to change.
Have a Question?
Frequently Asked Questions
How long does it take to lease my property?
No one can determine the actual time it takes to find a qualified tenant for your home. If the property is priced right and in rent ready condition most properties will rent in 2 to 4 weeks in today's market. If we do not attract a tenant in that time frame we re-evaluate your property. We will revisit pricing, property condition, marketing and any miscellaneous factors that may be keeping us from a qualified tenant. We will communicate our findings to you along with any recommendations we feel may be appropriate.
View All
Areas We Serve
What Our Clients Are Saying About Us
Reputation Reviews